EXPLORING CLIMATE CHANGE CHALLENGES AND SOLUTIONS
IN THE REAL WORLD:
FROM RESEARCH TO PRACTICE
21 - 25 May 2018
Sofia, Bulgaria
IMPRESSIONS aims to advance understanding of the implications of high-end climate change, involving temperature increases above 2°C, and to help decision-makers apply such knowledge within adaptation and mitigation strategies.
The aim of this summer school is to introduce IMPRESSIONS methods and tools so as to demonstrate their applications through studying the impacts of climate change and socio-economic changes in Bulgarian mountains and rural communities.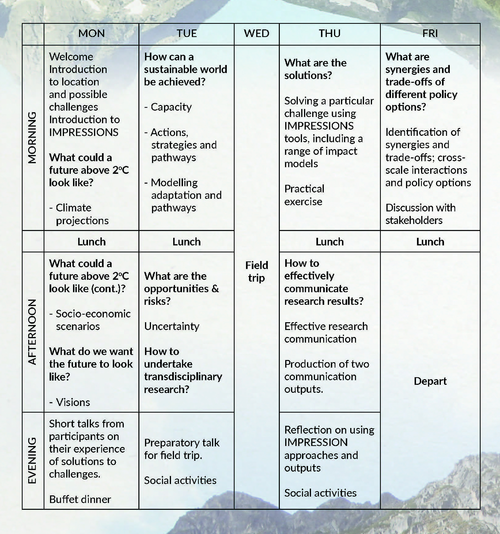 Designed to combine theory and methods with practical exercises and a field excursion to witness adaptation issues in person, this summer school will provide participants with a unique opportunity to work together on solving a specified climate-related challenge with leading scientific experts and local stakeholders applying methodologies and models developed within IMPRESSIONS. The summer school focuses in particular on how inter- and transdisciplinary research methods combine to develop practical climate solutions.
Working Language
English
Summer school tutors will include
Dr Paula Harrison (Project Co-ordinator), Dr Pam Berry, Prof Ian Holman, Dr Jill Jäger, Prof László Pintér, Prof Mark Rounsevell and Dr Mauro Napoletano.
Course Fee
No fee. The course & accommodation are financially supported by the EU FP7 project IMPRESSIONS. Participants are expected to fund their own travel costs.
Application deadline has now passed.